Archarya Roop Verma, Founder & Director, East-West School of Music, 1978-2017
"The study of music brings one more in touch with the creative energies that sustain and nourish one's life."
-- Acharya Roop Verma
The East-West School of Music had its beginnings at Ananda Ashram in 1978 and flourished under the direction of Acharya Roop Verma. Inspired by Shri Brahmananda Sarasvati to fulfill the vision of East-West unity through the arts, the School is dedicated to promoting music as a medium to experience and express the relationship between outer sound vibration and inner being. Through this direct contact, deep states of healing, creativity and spiritual awareness arise, leading to better understanding of ourselves and the world around us.
For many years, the East-West School of Music has been offering ongoing monthly classes in North Indian Vocal Music and Tabla. This has included regular classes in Instrumental Music, with particular focus on Sitar, in the master-pupil oral tradition at its best.
Special workshops and courses with Ashram and guest teachers are scheduled seasonally, providing instruction in both Eastern and Western music.In addition, there are regular concerts featuring classical Indian music as well as music from other traditions.
For more information contact eastwestmusic108@gmail.com
Current Co-Directors, East-West School of Music
Naren Budhakar
Born into the music tradition of India, Naren Budhakar began performing at a young age. A disciple of Tabla Maestro Ustad Shabbir Nisar, Naren has played with prominent instrumentalists, vocalists and dancers including Pandit Birju Maharaj, Ustad Amjad Ali Khan, Pandit Jasraj and Shaed Parvez and has performed at prestigious venues in the U.S. and Europe. He has provided Tabla accompaniment for various musical genres and has played with La Monte Young and Bobby Mc Ferrin and recorded with Alicia Keys. Naren is co-director of the East-West School of Music and as a faculty member teaches and performs regularly.
Deepak Kumar
Deepak Kumar Pareek
is a light classical singer and composer from the state of Rajasthan, India. His music covers a wide spectrum of styles: ghazals (romantic poetry), bhajans (devotional songs), kirtan and classic film songs. Deepak first studied with his father, Shri P.N. Vyas, and later with Ustad R.F. Dagar, Ustad Moinuddin Khan and Shri Mohinderjit Singh. He is accomplished on several musical instruments including harmonium, tamboura, guitar and keyboard. Deepak is co-director of the East-West School of Music and as a faculty member teaches and performs regularly.
Visit his website
for more information.
East-West School of Music Faculty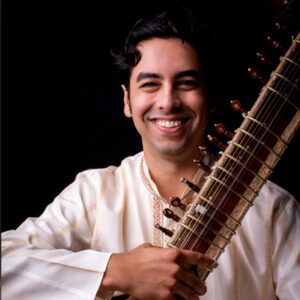 Arjun Verma
Arjun Verma,
sitarist, began performing at the age of seven. He is a student of his father Acharya Roop Verma and of Maestro Ali Akbar Khan, with whom he studied for eight years. Arjun has performed in the U.S., Europe and India, including at the United Nations in Geneva, Prague Castle in the Czech Republic and the Fillmore in San Francisco. He teaches Sitar and North Indian classical music at the Ali Akbar College of Music in California and at the East-West School of Music at Ananda Ashram.
Visit his website
for more information.
Tomek Regulski
Tomek Regulski is a composer, sitarist and meditation teacher. As a sitarist, he received his foundational training in the style of the Maihar Gharana from the late Acharya Roop Verma and continues his studies with Arjun Verma and Pandit Krishna Bhatt. Additionally, he is a vocal student of Ramakant and Umakant Gundecha, masters of the Dagarbani tradition of dhrupad singing. Tomek performs sitar in the classical concert setting as well as for yoga and meditation. He is on the faculty of the East-West School of Music at Ananda Ashram, where he has taught monthly sitar classes.
Krishna Devi
Krishna Devi is a Kirtan musician and Bhakti Yogini. She was initiated into the spiritual practice of Sanskrit chanting by her Guru Shri Brahmananda Sarasvati, who taught the Sanskrit language as the "science of vibration." Krishna Devi regards chanting as a gateway into meditation and believes that chanting the sacred sounds allows an opening of one's heart. She leads Kirtans and teaches classes at Ananda Ashram; she is also a published author of the book Kirtan Angels and has recorded and produced several albums.