Proceeds from programs and guest room & board generate most of the income needed to cover the Ashram's operating expenses. However, we depend on the generous support of our friends and members for the additional income needed for operating, as well as to help us maintain and improve our infrastructure and expand our facilities.
We hope you will join us for some of the special celebrations and programs scheduled this season.

Newly renovated Dining Hall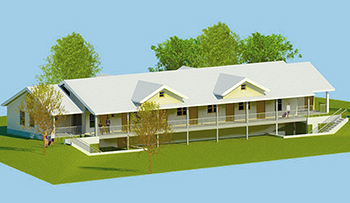 Architectural rendering of Shanti Sadanam
Support Your Ashram Generously!
If you would like to make a donation toward the continuing blossoming of the Ashram, please click on one of these links:
- Donations to this fund are applied towards the beautiful renovations and enhancements to the dining hall that were completed in June 2017. This added a new roof, higher ceilings, additional seating, new lighting, windows, heating and cooling systems, and updates to one of our oldest buildings.
- Donations to this fund are being used for the replacement of our old teacher and guest apartments with a new building, the Shanti Sadanam. The building is designed for 12 bedrooms with the capacity to add additional bedrooms in the future. Housing has been one of Ananda Ashram's greatest needs, and your generosity will benefit the people who visit here for many years to come. The construction has begun and the project is estimated to be completed in the spring of 2018.
- Contributions will be used to rebuild the bridge to the island in the lake, which traditionally served to host many special ceremonies and Ashram celebrations. Additional funds may be designated toward a new teacher's apartment.
- Money contributed to the General Fund is utilized to support the areas of Ananda Ashram's greatest needs, including maintenance and beautification of our buildings, grounds and roadways. It can help to cover the costs associated with the daily operations and guest services such as utility bills, etc.

• The Yoga Society of New York, Inc., is a 501(c)(3) nonprofit tax-exempt organization. Your gift is tax deductible to the extent permitted by law.